OZ COMIC CON. Bris. Convention Centre Sept. 23-24th 2017
............................................................................................
HALO Certification exhibitor number #TBA
OZ COMIC CON. BRISBANE CONVENTION CENTRE SEPT. 23rd - 24th. 2017
FREE PRELIMINARY GRADING SAT. & SUN.
FREE AUTOGRAPH VERIFICATION.
Q&A regarding Overstreet Publications.
"Oz Con is putting "Comics" back into Comic Con. A fresh new creative approach showcases for the first time at the Brisbane Oz Con. I believe this is the beginning of bright new future for comic collecting in Australia. Halo Certification is proud to take part and assist in this exciting event. My compliments go to Johnny Huynh for his foresight & initiative. I'm certain Sept. 23-24 will feature favorably in my 2018 Overstreet report. Let the good times roll." Grant Adey. Managing Director .
Halo Certification Pty Ltd. Overstreet Advisor to the Price & Grading guide.
info@ozcomiccon.com or 1300 780 677
STAN LEE: SUPANOVA Brisbane Convention Centre 10/11/12th November. "STAN the MAN" is back in OZ!
Supanova's "DAN the MAN", the guy who brought you Stan Lee in 2014 has done it again ! ....
"A concerted effort & major capital injection has been made by the Australian Comic convention leaders to put comics back into "Comic Con.". My 20 or so years of experience in the industry has seen many changes, never have I seen such reform in a short amount of time. Leadership must come from the top, & that it is. The solid foundation blocks being laid may not be obvious at the moment, in the big picture the Australian industry will offer greater opportunity to all. Let the good times roll" . Grant Adey Managing Director Halo Certification Pty Ltd.




NEW TURN AROUND TIMES POSTED. THE PAST FEW MONTHS HAVE SEEN A INCREASE IN BOOKS SENT IN FROM AUST. NZ. UK & CANADA. A WONDERFUL SHOW OF HANDS FROM THE COMMONWEALTH COUNTRIES. MANY THANKS FROM ALL AT HALO CERT.

NEW 2017 GRADING GUIDE OUT NOW.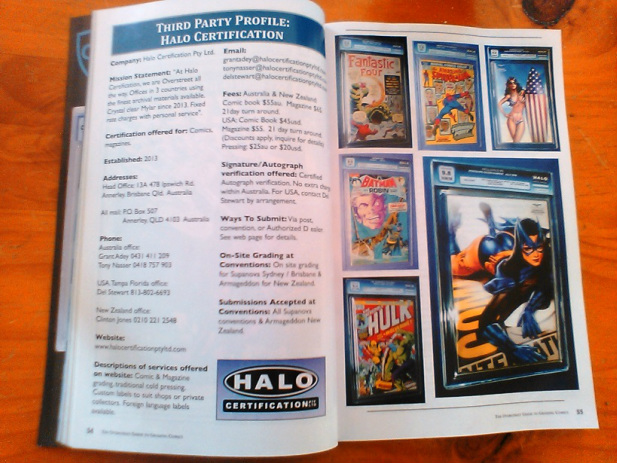 Many thanks to:

Robert M. Overstreet, Mark Huesman, J. C. Vaughn, Amanda Sheriff & Carrie Wood for their continued support.

"To Overstreet, our loyal customers & authorized dealers here in Aus., NZ & USA I say thank-you. I'm speechless, CGC, CBCS & Halo, to be listed in the same book as these two industry giants is a honour." Grant Adey Managing Director of Halo Cert.


---